Y

ou know those big 'ol filing cabinets a lot of us have hidden in a closet, the basement or back corner of our home offices? You know what I'm talking about, that unsightly hunk of metal that just doesn't fit into ANY decor. Well Look no further because your Southern Blenders can show you how to make that plain cabinet into a beautiful feature piece that will be the talk of your home office and you wont want to hide this … well anywhere!  
Materials:
Southern Blenders Alaskan Blenders Paint Kit (Seward, Kodiak, Denali, Sitka, and Arctic Seal) 

Southern Blenders Copper Nails Metallic paint

Unicorn Spit (Phoenix Fire, White-ning, and Midnight Blackness)

Polycrilyc

Numbers Stencil 

Paint Brushes 
Click "here" to order any of the Southern Blenders lines from our stockists!
First I cleaned and sanded the rusted areas and imperfections. (The rust is a cool look by the way!)
Once cleaned and sanded I applied two cans of the Rustoleoum anti-rust spray in brown.
I then let it dry for 12 hours before i began painting on it.
With the help of Southern Blenders Alaskan Blending kit I could achieve this finish by simply blending the colors in their own patches and blending them into the next color. 
Then after I blended all the colors I went for my Unicorn Spit and with this natural stain I was able to add drama making it look rusted and old.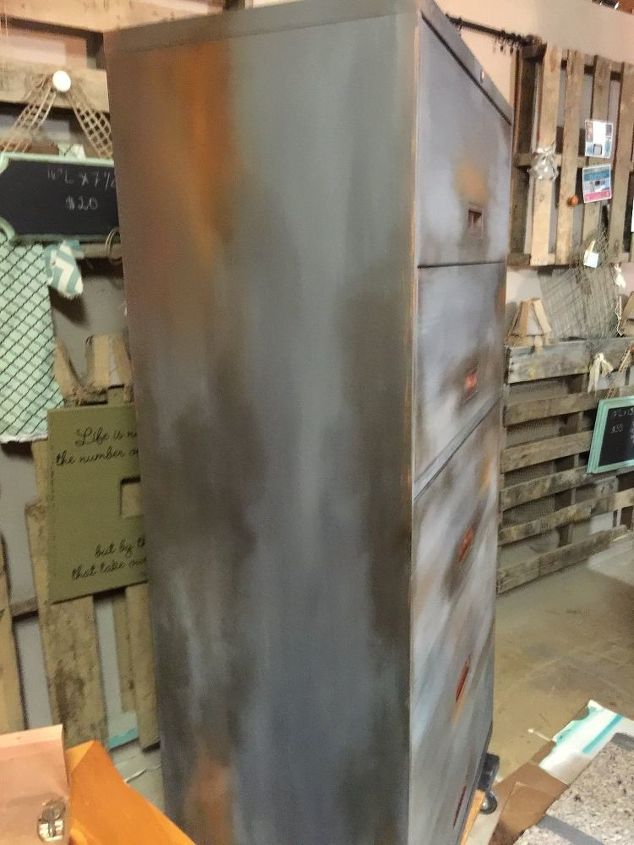 Then the personalization!!
1213 needed to be added to make it special (You can add your own favorite combo of numbers)
Simply place your number stencil on and lightly tap on the Whit-ning Unicorn Spit (with an almost dry brush). Then remove the stencil. 
Next Take your Southern Blenders copper nails paint and highlight the "rusted" areas!
After was dry, I sealed with Minwax Polycrilyc in two coats to protect the new finish! 
Done!
Give it at least a good (3) days to dry!!
Depending on weather temperature more or less!
If you would like to learn more about Alaskan Blending step by step, you take our online course click "here"